Lately I have been looking around at A TON of other blogs and I have found so many amazing new sites full of amazing people. After looking through blog after blog, I started seeing things on their blogs that I wish I had. Whether it was from their buttons or their blog posts, I wanted EVERYTHING I saw. So, I thought I'd share my new blogger-inspired Wish-List!
I've seen a ton of bloggers have this
Polaroid 300 Instant Camera
. I have always been in love with polaroid cameras, but I've never actually owned one myself. This one is so cute and prints the picture right after you take it! I want it so bad!!!! I'm going to have to keep my eye out for any on sale :)
Meredith over at
One Sheepish Girl
uses these in her header and buttons of her blog and I am obsessed with them! I already talked about them on my
Friday's Favorites
post a couple of days ago, but I still can't help but think of them! They are the
Penguin Classics Hardcover books
and I want them! So you know what I did? I ordered three of them from Barnes and Noble on Friday :) Hopefully they come tomorrow! I can't wait to have my own just to hold!!
I have a slight obsession with sunglasses, but a style I don't have is cat-eye!
These sunglasses
are so gorgeous and I think I'm going to have to find a cool pair online to wear this summer :) Mandi from
Miss Indie
always has a cute pair of sunglasses to go with her outfits, so she always makes me want to go out and find even more awesome pairs!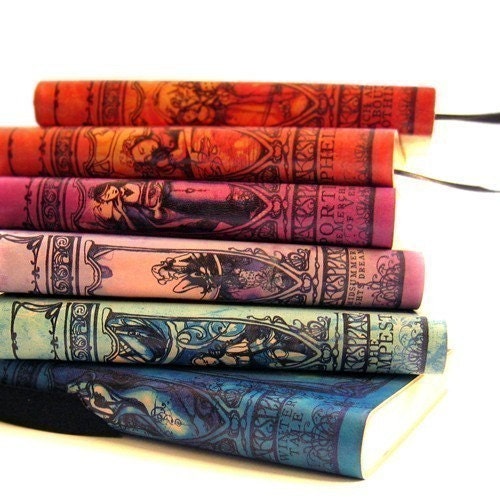 I found these
Shakespeare Journals
from Etsy are so freaking gorgeous. I found them a couple of months ago and want one so bad!!! Vivs from
Oh Shoot
is always blogging about journaling and every time I visit her site, I go online and window shop for gorgeous journals. I'm so inspired to write, but I already have tons of journals waiting to be filled...I might have to make an exception for these though!
Every time I look at Elsie's blog header at
A Beautiful Mess
, I can't help but swoon at the dresses in the background. I want to start wearing more dresses and my ideal wardrobe would definitely be the dresses from
Modcloth
but I would be so broke if I did that.
This dress
is so cute though! Maybe once I start my job this summer I can treat myself to a dress from there :)
And that's it so far for my blogger inspired Wish-List! I'm sure this list will grow so much, but I've got to restrain myself! Maybe I'll ask for some of these for my birthday...it's only two months away!! Thanks for stopping by and I hope you guys have a lovely day :)